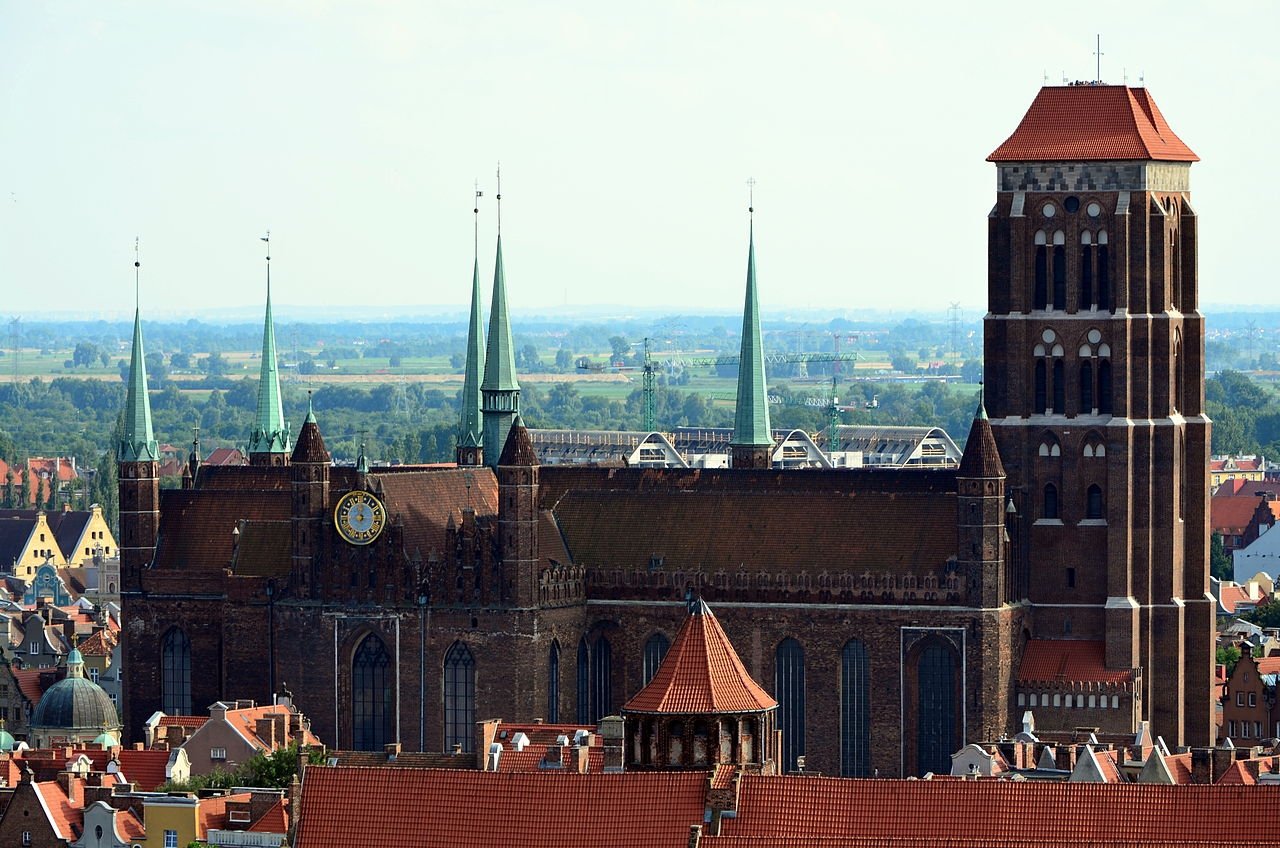 THE LARGERST BRICK CHURCH IN THE WORLD
Arts & Culture Inspiration Top 10
ST. MARY'S BASILICA
Huge, majestic, and impressive. Made of brick - so red-brown from outside, and white inside. It was built over a span of 150 years. The largest of all made from brick churches in the world. St.Mary's Basilica should find its place on the route of every tourist visiting Gdansk.
The Basilica is often called the Crown of Gdansk and is situated on the end of the picturesque Mariacka Street.
Construction began in 1343, and the last brick was laid in 1502. Long period? Not in comparison to the other gothic temples. The cathedral in York was built for over 250 years, Notre Dame church in Paris for 180 years and the cathedral in Kolonia was over 600 years!
The Basilica in Gdansk is 105.5 meters (346 feet) in length, 66 meters (216.5 feet) width in the transept, and almost 30 meters (over 98 feet) high. The tower is over 80 meters high over 262 feet). Inside this huge church is room for 25,000 people.
When you enter such an enormous temple it is natural that the first thing you have to do is to look up. The vault of the church of the Blessed Virgin Mary is worth more than just a brief glance.
It is simply impressive and it consists of three different types: starry, crystal and network. Although the vault is very high (over 30 meters, over 98 feet) it is very well visible thanks to 37 huge windows.
In the interior, the temple has quite a modest decor, which increases the feeling of the
magnitude of the temple itself. Although it is decorated with several masterpieces of Gothic, Renaissance and Baroque painting, as well as the majestic clock, the white walls appear to be almost empty. The paintings and side altars seem to be small in size and look like they have huddled in the shadow of the enormousness of the church.
Only the main altar and the organ break out of the pack.
The monumental wooden altar is dated to the beginning of the XVI century. The organ was constructed in 1629 and originally was housed in the Saint John church. The instrument was moved to the Basilica in 1945 and replaced an old organ destroyed during the Second World War.
For those who think they are in good physical shape - there are 406 steps of stairs to go. But it is worth defeating it and to climb up the tower to see the marvelous panorama of the city. If the weather is good it is possible to see even the Hel peninsula, which is about 30 kilometers, from Gdansk.
Written by:
Lukasz Starowieyski
PUBLISHED: Mar 7th 2019