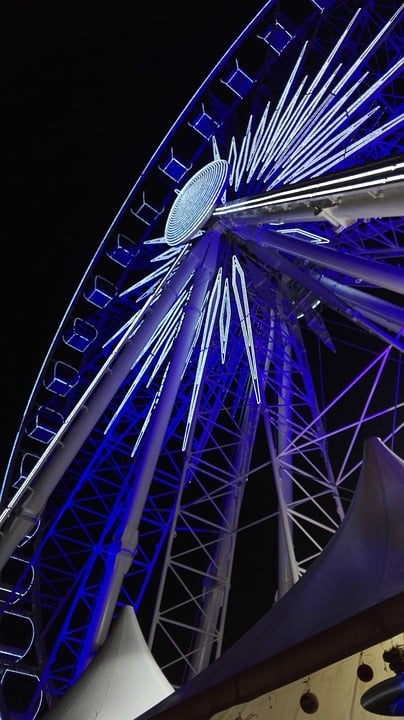 FERRIS (WHEEL) TALE
Adventure Family Fun Top 10
SIGHTSEEING OVER THE ROOFS
Bored with sightseeing from the street level? Do you want to see Gdansk almost from a bird's eye view? You do not even need to climb any stairs. Sounds interesting, huh?
The panorama of the old Gdansk is possible to see from the Ferris wheel Amber Sky which is 50 meters / 164 feet of height.
Although the Amber Sky is much smaller in height than the biggest Ferris wheels of the world - and even the one in nearby Gdynia is higher, nevertheless when you sit in a cabin and start to rise up you may feel a thrill of excitement. And why you may ask? Well, that is because it is higher than a 15-story building.
From the pinnacle, you can admire not only a magnificent panorama of the Old City of Gdansk, with all you ought to see when you are in Gdanskt: the old buildings, big gothic churches, rich-decorated city gates, and the river Motlawa with its islands, but also a shipyard, and when weather conditions are well the Hel peninsula.
The ride takes 15 minutes, during this time the wheel does 3 full rotations. The Ferris wheel has 36 air-conditioned cabins and may be used by up to 288 people at the same time. There is also one VIP gondola with the floor made from glass, with leather armchairs, a TV, and a fridge (with chilled champagne if there is a request). Two gondolas are adapted for the access of the disabled.
The Ferris wheel weights 440 tonnes or for comparison of 970 034 lbs! In the Autumn of 2018, the Amber Sky was moved from the Wyspa Spichrzow to Olowianka. The work lasted about 4 weeks and it gave jobs to 50 workers.
Written by:
Lukasz Starowieyski
PUBLISHED: Feb 22nd 2019