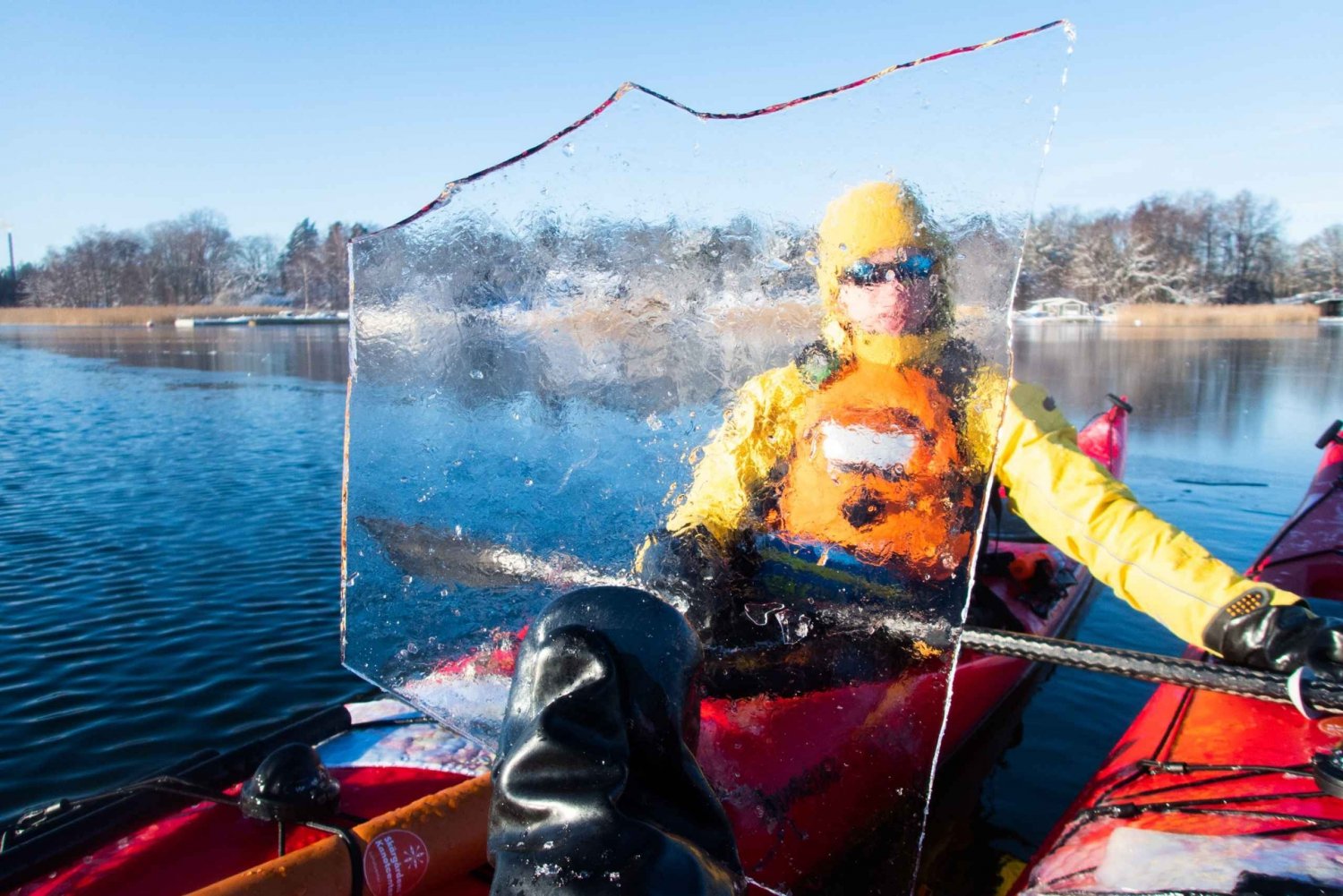 Event Details
Highlights
Feel the thrill of kayaking through Gdansk in the quiet of the winter season
See the well-preserved and vibrantly colored apartment blocks in the old town
Explore the twists and turns of the Motlawa river and the Radunia canal
Stay warm during your adventure with high-quality protective equipment
Admire the most iconic sights in Gdansk from the waters of the Motlawa river
Description
Explore the Motława River and the Radunia Canal on this kayaking tour in Gdansk. Stay warm in a dry suit and wear paddle muffles to protect your hands from the cold.  Meet your guide, then put on your life jacket and drysuit. Hop into your tandem kayak, which has been fitted with a spray skirt to prevent water from getting into the kayak. Slip your hands into the paddle muffler, which will keep your hands dry and toasty.  Set out on the Motława to see the towering green cranes of the shipyard. Admire the churches and brightly colored apartment blocks in the Old Town. Uncover romantic scenes as you travel down the Radunia. View the red-brick medieval granaries that have been restored on Olowianka and Granary Island. Cruise under the Olowianka Footbridge and enjoy a cup of hot chocolate before heading back to the starting point. Due to the sizes of the drysuits we are only able to accept bookings for persons aged 15 and above. All persons under the age of 18 must be accompanied by an adult. Every participant has to be able to communicate in English. The tour takes place in rain or shine.
Includes
Guide Waterproof bag Tandem kayaks and paddles Paddle muffles and spray skirts Life jacket Drysuit and boots Hot chocolate break
Important Information
This tour will take place rain or shine
The tour will be canceled in dangerous weather conditions, and you will be offered an alternative date or a full refund
This activity is suitable for most travelers. However, it is not recommended for those with serious medical conditions
The weight limit is 110 kg.
All participants need to be able to comunicate in English
Everyone has to be able to swim Let us know if you are vegan or you can not drink milk for any other reason and the hot chocolate will be prepared on soy milk. Please don't wear jewelry. You will have to remove any bracelets, watch, earrings and rings before wearing the drysuit.
Easy cancellation
Cancel up to 24 hours in advance for a full refund